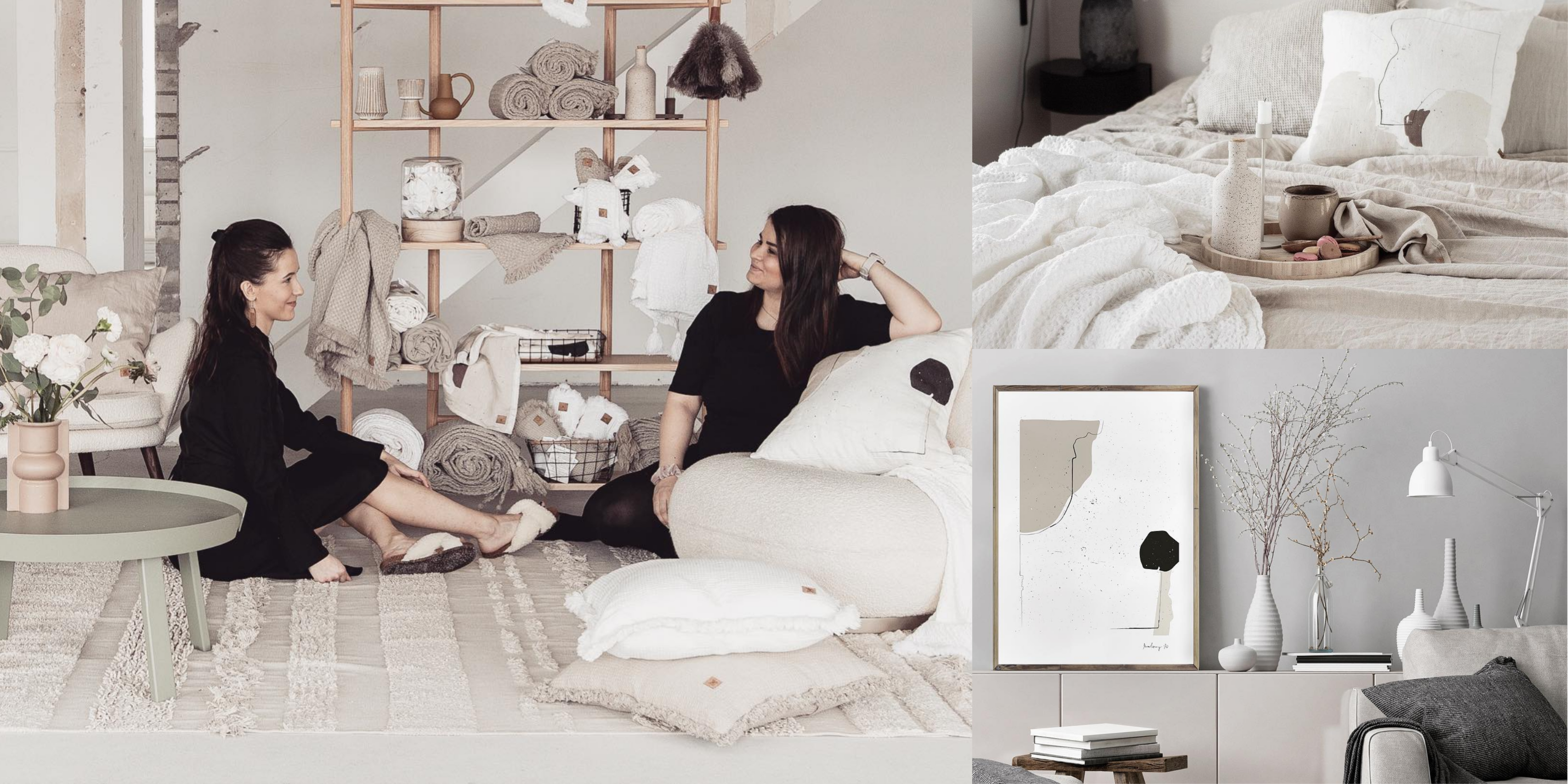 Finnish entrepreneurs Veera Ylikotila and Jenni Hakkarainen set up Xeraliving in 2020. Their bold mission is to contribute to a sustainable and transparent interior design industry through items that combine the versatility of natural materials with sleek contemporary style. Working with local and European manufacturers, they produce home accessories and small objects, all with practicality and sustainability at their core. Enterprise Europe Network offered the young company advice on outsourcing, building international networks, and finding new business partners. Hanna Riski, Senior Adviser at the Network partner Business Finland, met with Veera Ylikotila, co-founder of Xeraliving, to share with our readers how they worked together to achieve success.
The birth of Xeraliving: 'Nothing but pretty things and better choices'
Xeraliving is a Finnish company, founded in 2020 by Veera Ylikotila and Jenni Hakkarainen who met at the Habitare Fair in Helsinki the previous year. With successful entrepreneurial careers under their belt, the two designers saw a unique opportunity to create a new brand that would shape the sustainable textile industry in Europe.
Taking inspiration from nature and the Nordic minimalist aesthetic, Xeraliving offers high-quality home decor in natural materials, produced responsibly and transparently. Collections feature a versatile range of textiles – from subtle prints and elegant linen bedding to rich throws and blankets – as well as a beautiful series of artwork, postcards, and calendars. The natural fabrics such as linen and organic cotton, together with the clean design and attention to craft, speak to modern dwellers who wish to create a functional and beautifully decorated space in their homes. In a timeless style, products are characterised by comfort and simplicity, created using eco-conscious techniques, in soothing cream colours and earthy tones. Xeraliving's slogan –'Northing but pretty things and better choices' – accurately sums up the company's credo.
Sustainability as a way of doing business
Textile mills generate one-fifth of the world's industrial water pollution and use approximately 20,000 chemicals, many of which are carcinogenic, to make clothes. Every year, Chinese textile factories alone produce about three billion tons of soot pollution, linked to severe respiratory and heart diseases. Xeraliving aims to change this grim picture. "It's vital for companies to make better choices", Veera explained. "While a small business may have access to limited resources, it can always choose what materials to use and where to produce."
Ethical and ecological values are firmly woven into the company's fabric – from the choice of materials to packaging and shipping. The signature fabric of the collection is linen, selected due to its durability and light environmental footprint. Flax, from which linen is made, is a resilient plant that can grow without irrigation, fertilizers or pesticides, using far less resources in its cultivation than cotton. Other decor and stationary items are made from organic cotton, recycled fibres, cellulose, and paper. Textiles are accompanied by international certificates such as Oeko-Tex100, which guarantees that articles are harmless for human health, and the Global Organic Textile Standard (GOTS), ensuring the organic status of the materials. Similarly, paper products are certified either by the Forest Stewardship Council (FSC) or the Programme for the Endorsement of Forest Certification (PEFC), which means that the wood used as a raw material comes from identifiable, well-managed forests. A local company in Pori, Finland, currently employing 20 staff, prints all paper items.
Products are packed at a local factory to reduce fuel consumption and pollution. Merchandise is stored in a single warehouse in Turku, Finland. Packaging matters, too:  textiles are wrapped with an organic cotton ribbon, logo tags are made from natural Portuguese cork, while product tags are designed using biodegradable flower seed paper. The company minimises waste as much as possible and never uses plastic. Customers are invited to make thoughtful and informed purchases, recycle, compost, or simply return worn textiles to Xeraliving for donations or reuse. Similarly, cards and posters can be repurposed for crafts or DIY projects, while packaging paper is perfect for wrapping gifts.
The company carefully tracks and documents the entire production process – from design and printing to sewing and packaging. "All our items have what we call a "responsibility map" that shows the product's journey from the design table to the final product", Veera says. "We are creating the decor of tomorrow". Xeraliving only works with companies that share the same commitment to sustainable and transparent practices. The creation of their tote bag, for example, happened in close collaboration with a Dutch circular textile factory recycling polyester and cotton fibres.
When business expertise meets passion and grit
Xeraliving first contacted the Network partners in Finland in the spring of 2020. The company needed assistance with outsourcing, building international networks, and finding new partners. The pandemic brought further challenges to the business. To support Xeraliving, Hanna reached out to her Network colleagues in the textile sector to identify new contacts and encouraged the company to join virtual matchmaking events organized by the Network such as 'Textile Connect' in 2020.  "We were relieved and excited to hear that the Network could help us find the contacts we needed, free of charge", Ylikotila recalls. "Before that, we were on our own". The company soon started working with five new business partners in Sweden, Portugal, the Netherlands, Slovakia, and the Czech Republic. "The event gave us a good start in our international journey", adds Jenni. "We were able to quickly liaise with new companies, which would have taken much longer without the Network's support".
The Network was instrumental in Xeraliving's search for international business partners. Rapidly adapting to the COVID-19 realities, the Network embraced a virtual format for its matchmaking events. As Hanna explains, "these online meetings ended up attracting a larger number of participants than ever before, as travelling was no longer required".
At present, Xeraliving remains in close contact with the Network partners in Finland, with the company maintaining an active profile in the Network's database. The business also joins international matchmaking events announced by the Network to find new contacts, such as distributors. To boost its visibility and promote its products, Xeraliving built a strong digital presence on social media, particularly Instagram. Online wholesale marketplaces such as Faire, Orderchamp, and Ankorstore have also played an important part in the company's marketing strategy.
With larger companies taking a giant leap towards sustainable production, small companies need to keep up with international competition. Today, more than ever, SMEs play a crucial role in shaping a sustainable future by placing value on the planet and people. Sustainable business operations ensure that these companies can meet demands for eco-conscious products and services, reduce waste, decrease their impact on the environment, and consolidate their brand reputation. Such a task may seem daunting at first, but SMEs are not alone. By seeking the Network's advice and support on international growth and sustainability, small businesses can set themselves up for success.
About the author(s)
Hanna Riski is the Coordinator and the Communication Champion of the Finnish consortium of Enterprise Europe Network. Her expertise covers areas such as the development of services for public enterprises, as well as EU affairs and international partnerships, with a focus on the textile sector.
This article was co-authored by Ruxandra-Laura Bosilca, PhD, Social Media and Community Manager for Enterprise Europe Network.
Related articles for sustainability
Embedding sustainability into your daily business operations is not only beneficial for the environment, but can also improve your brand reputation, reduce costs, and attract socially conscious customers. In this article, we're sharing 5 strategies that will help your business become more sustainable.
As clean beauty is reshaping the cosmetics landscape, Four Starlings – a family-owned soap-making business in Poland – emerged as a rising star in the industry. We talked to Grzegorz Sienkiewicz, Managing Director of Four Starlings, and Anna Wrzesińska, Chief Specialist for International Cooperation at Podlaska Regional Development Foundation and Business Adviser at the Polish branch of Enterprise Europe Network, to find out how the Network helped the company grow into an international success.  
In 2018, a group of Greek farmers created Proud Farm Group of Farmers to drive sustainable sheep and goat farming forward using new technologies. The Network's business advisers at ANKO Western Macedonia – Organisation for Local Development helped the company reach its ambitious goals.
Related articles for women entrepreneurship
Over the past decades, the number of women who run small and medium-sized enterprises (SMEs) has increased. Still, female entrepreneurs face multiple and intersectional challenges, from access to funding to gender biases. Enterprise Europe Network is on a mission to bolster women's voices across all industries and equip them with the right tools to succeed.
In recent years, women are changing the world of digital technologies. Inspiring stories are starting to pile up, describing the unique journeys of successful women entrepreneurs in the high-tech industry. One of them is Dragana Calija, owner and CEO of Saint Di & Co, winner of the Best Woman Exporter Award in the Success Flower Awards for the 2020 best women entrepreneurs. Sanja Popovic-Pantic, the chair of the Network's group of experts in women entrepreneurship met Dragana and asked her a few questions to put the spotlight on her story and achievements.