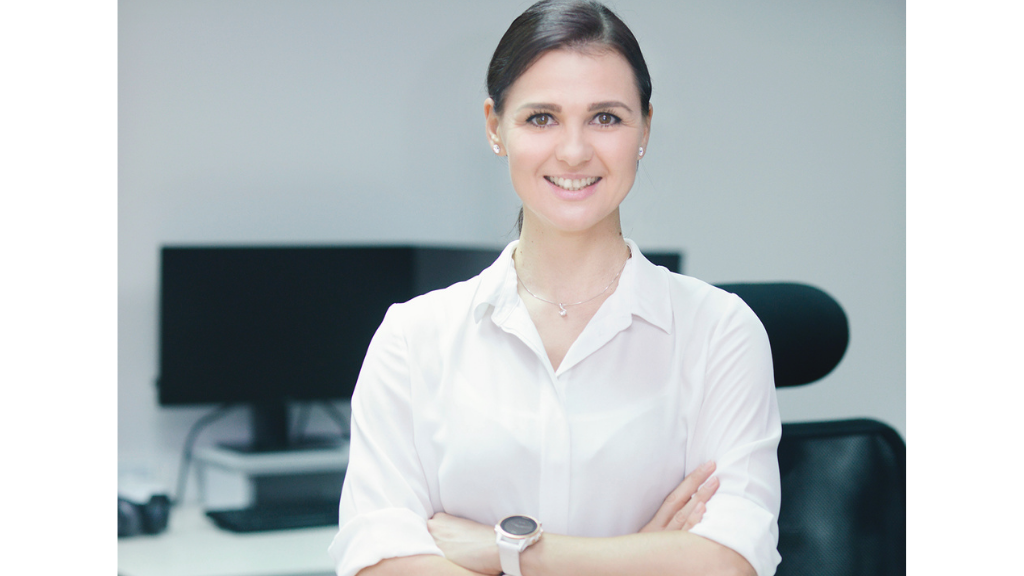 In recent years, women are changing the world of digital technologies. Inspiring stories are starting to pile up, describing the unique journeys of successful women entrepreneurs in the high-tech industry. One of them is Dragana Calija, owner and CEO of Saint Di & Co, winner of the Best Woman Exporter Award in the Success Flower Awards for the 2020 best women entrepreneurs. Sanja Popovic-Pantic, the chair of the Network's group of experts in women entrepreneurship met Dragana and asked her a few questions to put the spotlight on her story and achievements.
Question: Can you tell us more about your journey? How did you manage to get where you are now?
Answer: I have to say, the road to success was not easy, obviously. Throughout my entire career, I had to face and overcome numerous challenges. It took a lot of hard work to thrive in the IT industry, which is not exactly a fertile ground for women executives.
I guess determination and tenacity have always been by my side along my journey. When I decided to set sail in entrepreneurial waters, I did not have any type of support, but that did not stop me. I had planned all my next steps and once I completed one, I moved on to the following.
Q: It looks like you enjoy a good challenge. Can you give us an example?
A: The first one that comes to mind is when I wanted my company to grow. Establishing cooperation with the first major client was a tough challenge. I started out as a sole female founder in a predominantly male industry. Therefore, it took me some extra effort to prove my value and to reassure that big client that my team and I were perfectly capable of successfully satisfying their needs.
Once the company started to stand firmly on its feet, I realised I needed a new challenge. That is when we conceived the idea for OrderEngine, our software solution primarily designed as a B2B tool for the hospitality industry. After the testing phase and the success it received in Serbia, I understood that the next step was to scale up our product globally. After due consideration, I decided to scale to London and the UK first. I faced, of course, many challenges, starting from the fact that coming from Serbia, it is not easy to obtain a work permit, open a company and grow your business without a network. My idea for OrderEngine made me become part of the Global Entrepreneurship Program organized by the UK Department for International Trade. This helped me in establishing contacts and expanding my network. I also received Tier 1 Exceptional Talent Visa and this enabled me to establish my business in the UK. As my team was in Serbia at the time, it was challenging to juggle between London and Serbia and manage the company expansion on one hand, and the global product scaling on the other.
Q: If you had to pick two things that drive you forward, what would they be?
A: I will probably have to pick ambition and new challenges. Every time I reach one goal, I set a new one. Challenges are what make me learn and improve. I believe progress should never stop and this is what motivates me. I always try to set the bar for myself a little bit higher and push myself a little bit forward.
Q: Can you tell us how the Enterprise Europe Network helped you?
A: The Network helped me improve my innovativeness and act internationally. Most notably, I received services enhancing the innovation management capacity from Serbian Network Partner Institute Mihajlo Pupin (Belgrade). The entire process was online because of the pandemic. Thanks to their advice, I was able to develop the innovative side of my business and to promote my new product OrderEngine via the Network's group of experts in women entrepreneurship. Furthermore, the Institute directed me to the Association of Business Women in Serbia, who promoted my business and enabled me to gain many useful connections. Finally, the Enterprise Europe Network gave me the possibility to receive global promotion and to reach out to various SMEs who provided me with insights and useful advice on business strategies.
Q: The current global pandemic has harmed many companies worldwide. How did you cope with it?
A: The COVID-19 pandemic was indeed an unexpected challenge. We planned on start selling our software solution OrderEngine in March this year. Of course, that was not possible. However, we started to think outside of the box and to explore new directions. We originally designed OrderEngine as a B2B solution, but when we faced the coronavirus-related issues, we decided to adapt it and turn it into a B2C tool, creating a market for people to order food and goods online. I guess everyone would agree that in the past months, resilience, flexibility and dynamism have been three major keywords for businesses.
Q: What are your biggest accomplishments?
A: If I had to pick what I am most proud of, it would probably be that I managed to build a successful company with clients all over the world, as well as creating my own product and being successfully recognised for it. Moreover, receiving the Exceptional Talent Visa and becoming part of Global Entrepreneurship Program in the UK is proof that my hard work is acknowledged outside my country's borders. Finally, one of the most significant achievements was receiving this year's Success Flower Award.
Q: Do you have any tips for other women entrepreneurs out there that have decided to walk the same journey as you?
A: It might sound like a cliché, but I would tell them to be brave and to believe in themselves. I think that women do not receive this message enough. I would also advise them to use to their advantage certain qualities we have, such as the ability to multitask, determination and the strength to finish what we started. Finally, do not hesitate to join national and international business networks.
Q: What is next for you?
A: As soon as I get the chance, I am going back to London to continue where I left off and resume the global expansion of our product OrderEngine. Like I said, setting new goals and milestones is what drives me forward. Therefore, I intend to expand our client portfolio both in Serbia and worldwide and to employ more people to bring the company to the next level.
About the author(s)
Sanja Popovic Pantic works for the Institute Mihajlo Pupin (EEN Serbia) as research associate and senior SME innovation consultant. She has been chairing Network's group of  experts in women's entrepreneurship since 2015.
The article was co-authored by Matthia Simone Sorrentino, Communication Adviser at the European Commission for the Enterprise Europe Network.