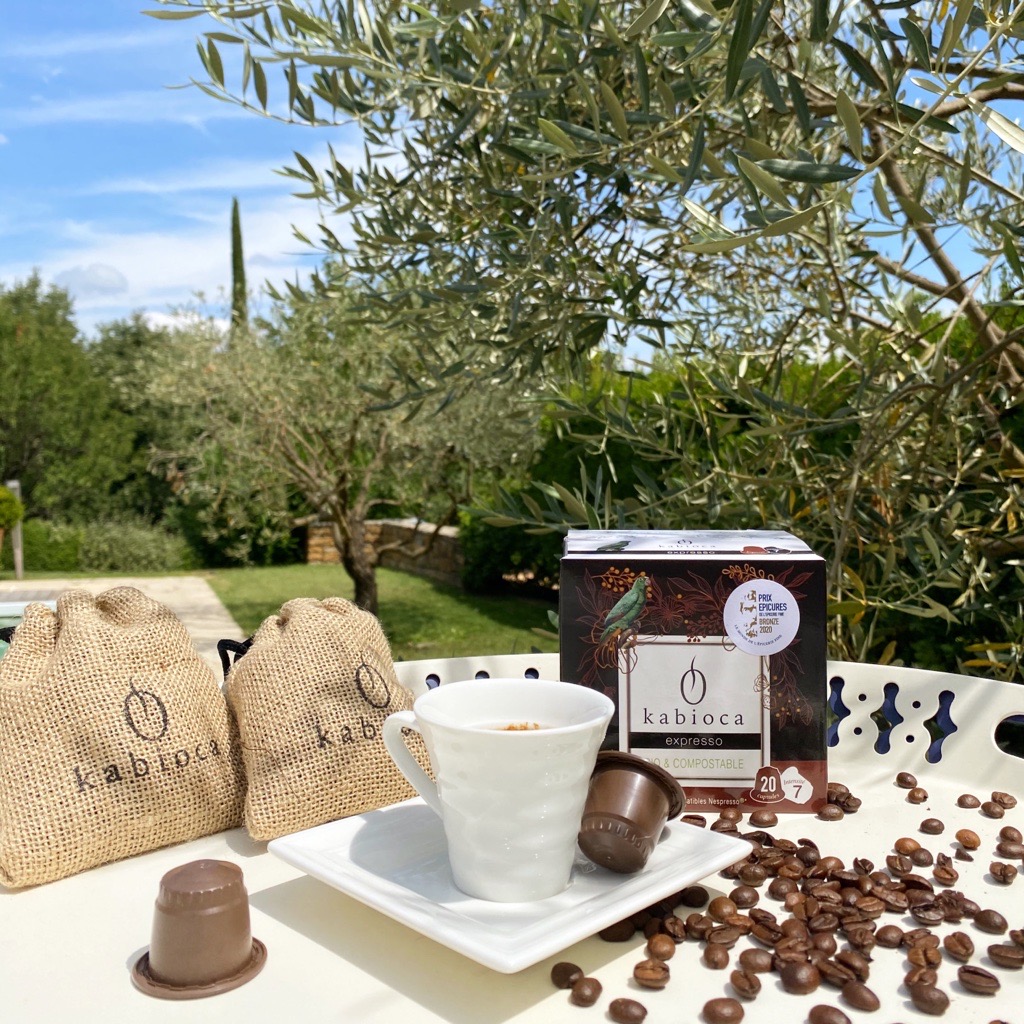 We all love a fresh cup of coffee to kick-start the day, but have you ever wondered what impact this daily habit has on the environment? Read along to find out how the Enterprise Europe Network (EEN) supports the French start-up Kabioca on its journey to sustainable and eco-responsible coffee production from farm to cup.
As part of its core work, the Enterprise Europe Network offers advice and support to small and medium enterprises (SMEs) on their mission to protect the planet and build a sustainable future for all. The story of the French coffee manufacturer Kabioca shows how the Network can help SMEs fast-track their growth and achieve their global goals.
Irina Vorokhobina, International Adviser at the Paris Île-de-France Chamber of Commerce and Industry (CCI) for EEN France, teamed up with Antony Pinelli, Kabioca's Sales and Marketing Director, and Pierre-Julien Wacek, Export Manager, to share with our readers how they worked together to achieve success.
The concept behind Kabioca
Launched two years ago, Kabioca is a French SME created by coffee enthusiasts with a commitment to sustainability. From their high-quality, organically grown coffee to their fully biodegradable pods and eco-friendly packaging, the company takes pride in its human-centred and responsible business practices.
Kabioca produces certified organic coffee, ensuring 'bean to cup' transparency and traceability. This means that no synthetic chemicals or genetically modified components are added to the cultivated soil, and strict controls are carried out at each stage of the production and transportation processes. Kabioca's coffee is obtained through organic farming, which helps preserve the quality of the soil, air and water, while protecting biodiversity and creating new jobs.
Yet Kabioca's flagship innovations are its fully organic coffee pods. Yearly, coffee pods produce over 40,000 tons of waste and take up to 500 years to break down, which raises serious environmental concerns. To fight against this alarming trend, Kabioca uses natural materials such as corn starch and cellulose to produce biodegradable, aluminium-free coffee pods. These are completely compostable within three months to two years – depending on the process – and are compatible with a variety of coffee machines. Since its beginning, Kabioca has sold nearly 300 coffee pods across 7 countries, saving half a ton of aluminium. 
But Kabioca's eco-responsible approach to coffee production and delivery doesn't stop here. For instance, the company uses only recycled/recyclable paper and ecological adhesive rolls for packaging. The start-up also went paperless with e-invoicing, which significantly reduced its carbon footprint and environmental impact. As for shipping its orders, Kabioca works with carefully selected carbon-neutral partners.
How the Network supports Kabioca
The Network Adviser, Irina Vorokhobina, first met Kabioca's team in April 2021. They immediately started working together to set the company up for success. Irina introduced Kabioca to the Network and assisted the start-up in elaborating an international development strategy and finding new business partners.
First, the Network helped Kabioca create a profile in its database and facilitated its connection to a new partner in Slovakia. Second, Kabioca had the opportunity to present its brand concept at the 'EUfood2Japan' project run by the EU-Japan Centre for Industrial Cooperation. This enabled the company to liaise with a Japanese partner and showcase samples of their products. Regular exchanges with Japan have taken place ever since, with efforts focusing on developing a Japanese range of products to reflect local specificities and identifying local partners. Finally, Kabioca participated in the free virtual B2B meetings at the 'Free From Functional & Health Ingredients Expo 2021' held on 22-23 November in Amsterdam, where the team met new potential distributors.
Mapping out plans for a sustainable future
To get started, Kabioca plans to sign a contract with Japanese and Slovak business partners, while continuing its close cooperation with the Network to grow internationally. If you'd like to hear more about how Enterprise Europe Network can help SMEs accelerate their business success, let's talk over a cup of coffee!
About the author(s)
Irina Vorokhobina is a Project Adviser at EEN France, helping SMEs innovate and grow internationally. Irina acts as the key point of contact for the agro-food companies in the Paris region, identifying new opportunities for SMEs and supporting them in their international development.  
The article was co-authored by Ruxandra-Laura Bosilca, PhD, Social Media and Community Manager for Enterprise Europe Network.