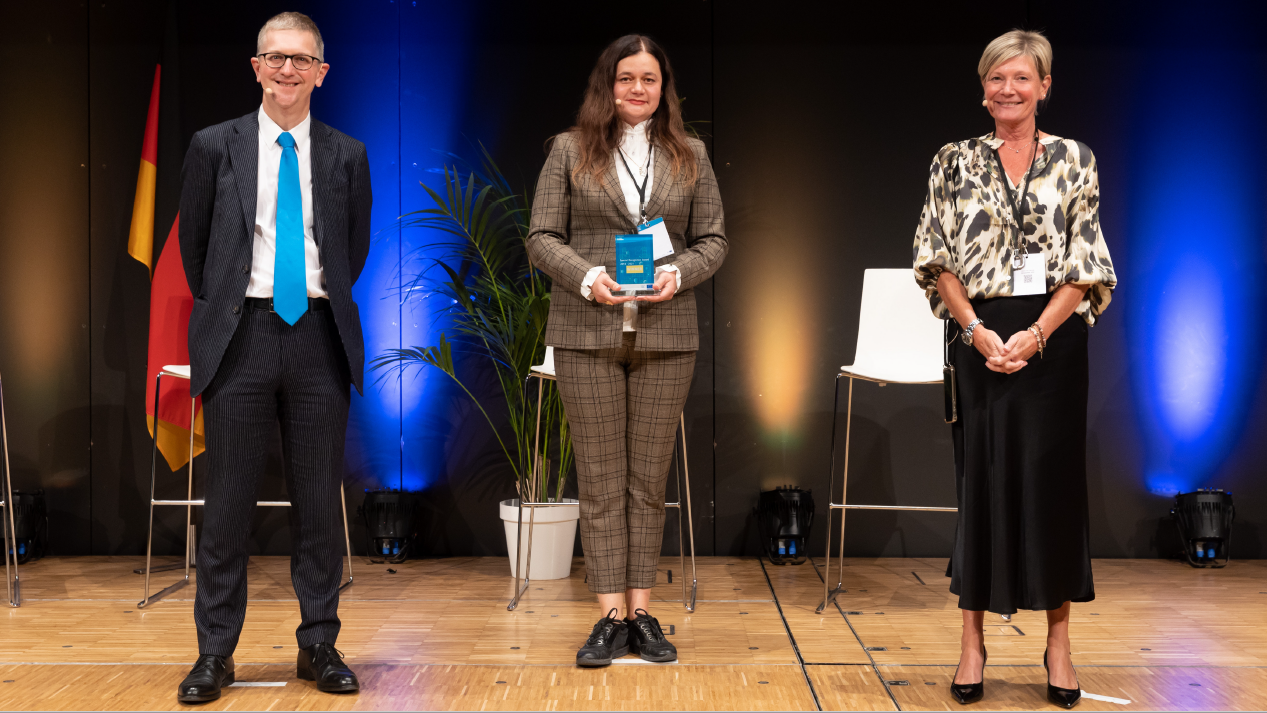 How can small and medium-sized enterprises (SMEs) use digital technologies to stay competitive and overcome adversity? The Enterprise Europe Network (EEN) Ukraine Consortium is committed to help businesses become smarter and more resilient through digitalisation.
A digitally-driven world
New digital technologies are revolutionising business as we know it. Digitalisation can help SMEs reduce costs, access resources, innovate, and enter the global market. Digital leaders are also best equipped to overcome disruption and take advantage of new business opportunities, as shown by the COVID-19 pandemic. Yet, despite these benefits, many SMEs currently lag behind in the race towards digitalisation.
The Network Consortium in Ukraine is on a mission to break down barriers to digital transformation by developing innovative digital services for SMEs – from informative e-digests and exciting virtual events to inspiring social media campaigns. That's how they were able to foster SMEs cooperation, attract new clients, and help the Network expand its outreach.
These initiatives enabled the Consortium to win the Network 'Special Recognition Award', which acknowledges Network partners whose initiatives had an outstanding impact on the Network and its clients during 2015-2021. The winners were announced during the 2021 Network Annual Conference on 29 September-1 October in Stuttgart, Germany.
Reimagining communication in a digital era
EEN Ukraine began its digital transformation journey by publishing weekly and monthly e-digests. Designed to incentivise SMEs to use Network services, these feature information about upcoming events, business opportunities for SMEs, and inspiring success stories of the Network.
The Consortium also uses social media channels to boost digital progress. For instance, the team collects information about Network clients which provide promising business opportunities for Ukrainian SMEs, and then turns these profiles into 3D digital models. These are accompanied by short descriptions of the products and services offered and/or requested by selected SMEs, along with the type of cooperation sought by the enterprises and a summary of their activities. The 'SMEs snapshots' are released on social media, including Facebook, Telegram, LinkedIn, and Twitter. These not only boost the visibility of the Network, but also foster business matchmaking by linking together the SMEs' needs and solutions.
Business matchmaking goes digital
As trade fairs and conferences got canceled in the face of the pandemic, business events pivoted to digital platforms, with companies seeking new ways to engage with audiences and connect with partners. The upside: EEN Ukraine quickly noticed the opportunities emerging from the disruption and flipped its in-person events to online meetings.
The Consortium also put together over 25 videos to promote its events and Enterprise Europe Network events. Questions such as 'What will happen at the event?', 'Who will be speaking?', 'What will attendees get out of their participation?', or simply 'How to register?' are all answered. This idea helped attract more clients and stakeholders while facilitating the participants' interaction via virtual platforms such as B2Match.
A digital future for SME training opportunities
The COVID-19 pandemic has accelerated the digitalisation of learning worldwide. Faced with a spike in demand for online training content, organisations had to quickly adapt and take a quantum digital leap. So, the EEN Ukraine Consortium developed a series of online training programmes, focused on topics such as how to find international business partners and investors, promote new products on the global market, prepare international projects, and more. The Consortium also spearheaded an online EEN School for SMEs. For two months, 30 selected SMEs joined online training sessions run by experts of the Consortium, who helped organisations set up their EEN profiles and provided tailored assistance. Together, these resources helped SMEs access the EEN services and venture into international markets.
SMEs need new digital tools and strategies to stay agile and resilient in the new business environment – whether it's to reinvent their products and services, transform customer experience, or become ultrafast innovators. The pandemic has further pushed organisations to move faster towards digitalisation. From remote teamwork and virtual events to e-commerce, change is here to stay.
The EEN Ukraine Consortium remains focused on designing customer-friendly digital services, and will continue to provide fresh content to SMEs through its e-digests. The Consortium has also built an active social media presence. Over the past two years, the number of its Facebook subscribers has almost doubled, while its LinkedIn page – launched in 2021 – has already attracted over 500 subscribers. The community's positive feedback and the Enterprise Europe Network award show the Network's tangible commitment to help SMEs leverage the potential of digital technologies. Now is the right time for SMEs to turn digital and thrive.
About the author(s)
Dr. Olena Fesenko has been the coordinator of the EEN Ukraine Consortium for the past 4 years. She is also the Head of the International Innovation Cooperation, Technology Transfer and Intellectual Property Protection Department of the National Academy of Sciences of Ukraine. While being one of the youngest consortia of the Network, EEN Ukraine has rapidly grown and expanded its services over the past years.
The article was co-authored by Ruxandra-Laura Bosilca, PhD, Social Media and Community Manager for Enterprise Europe Network.
Related articles for smes
Enterprise Europe Network is a key supporter of small and medium-sized businesses (SMEs) in Europe's cultural and creative industries (CCIs). In this interview with Aija Konisevska Azadi, Project Manager at the North Denmark EU Office, we delve into entrepreneurship in these sectors and explore how the Network helps small businesses succeed in a competitive market.
Embedding sustainability into your daily business operations is not only beneficial for the environment, but can also improve your brand reputation, reduce costs, and attract socially conscious customers. In this article, we're sharing 5 strategies that will help your business become more sustainable.
Planning to take your business to new international shores? It's a thrilling journey, but the path can be rocky. In this blog, we'll share 5 key tips for success and show you how Enterprise Europe Network can be your guiding compass on this adventure.
Related articles for innovation
Intellectual property is a powerful tool that can help small and medium-sized enterprises (SMEs) thrive in a fierce business world. Small businesses drive innovation, job creation, and economic growth. Yet, many of these ventures face a common hurdle: the lack of resources and know-how to protect their valuable intangible assets. Join us for a conversation with Christina Deyl, Internationalisation adviser for Enterprise Europe Network Hessen, as she shares her insights on how to make the most of your intellectual property.
How does Enterprise Europe Network support innovative small and medium-sized enterprises (SMEs) in the tech sector? Our Network business advisers and three companies benefiting from their expert advice look back on their successful collaboration.
How can small and medium-sized enterprises (SMEs) create and nurture a culture of innovation? Discover below seven steps companies should take to develop an innovative mindset and environment that supports growth.
Related articles for digitalisation
As the Enterprise Europe Network enters a new framework period, we talked to Muriel de Grande, Head of Sector at the European Innovation Council and SMEs Executive Agency (EISMEA), to find out more about the Network's exciting initiatives and plans for the future.
Related articles for ukraine
Small businesses in Europe are under more strain than ever before. The ravaging war in Ukraine – adding to a dramatic slowdown in China's economy, the pandemic, and the climate crisis – is rocking global supply chains, affecting industries from semiconductors to food. In this period of disruption, enhancing the ability of small and medium-sized enterprises (SMEs) and start-ups to bounce back from crises is crucial for Europe's rapid recovery.
Related articles for covid-19
Small businesses in Europe are under more strain than ever before. The ravaging war in Ukraine – adding to a dramatic slowdown in China's economy, the pandemic, and the climate crisis – is rocking global supply chains, affecting industries from semiconductors to food. In this period of disruption, enhancing the ability of small and medium-sized enterprises (SMEs) and start-ups to bounce back from crises is crucial for Europe's rapid recovery.
"Never waste a crisis", it is sometimes said. The Enterprise Europe Network experienced this first-hand when the coronavirus took hold of the world. We made changes at lightning speed to keep our professional Network active. And the results were impressive! Entrepreneurs did not feel abandoned. Supporting and connecting people, even at the height of the storm: this is the strength of our Network!
The new decade began differently than anyone could have ever expected. The abrupt and sweeping changes that we now face because of the COVID-19 crisis were impossible to foresee. Different needs, new rules, shifting priorities; we were all asked to adapt quickly to an unprecedented situation. SMEs around the world are struggling to stay afloat and to adjust to the current challenge. This is where the Enterprise Europe Network stands strong, helping companies overcome these difficult times.