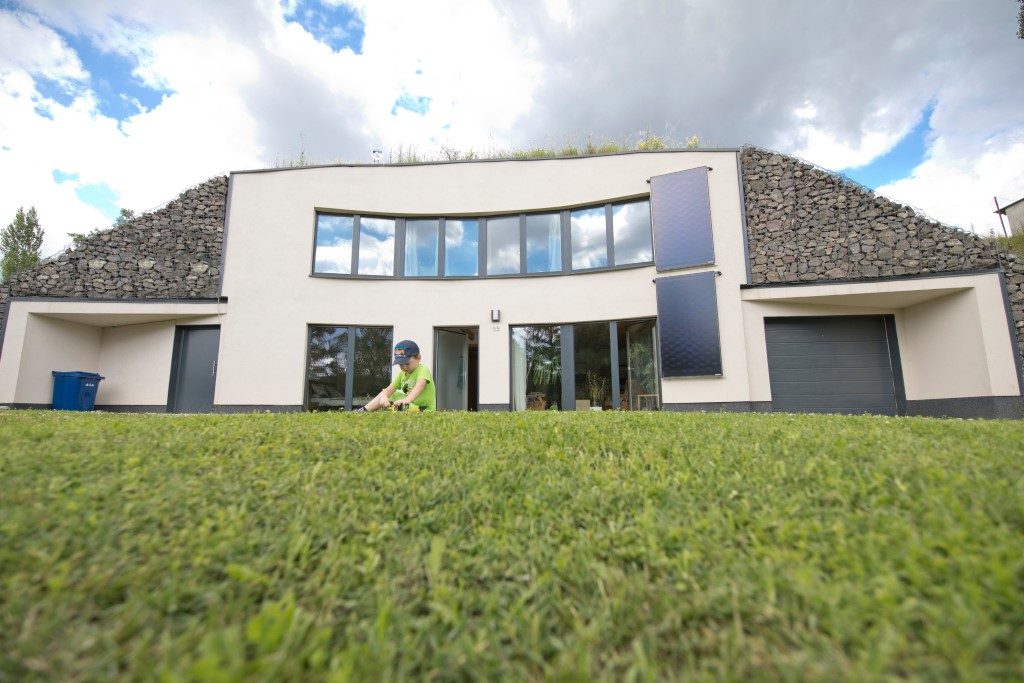 What is sustainable architecture and how can it help designers, architects, builders, and clients minimise harmful energy consumption and pollution? Katarína Jelenáková, Manager for International Cooperation and Support of SMEs at the Network partner Slovak Business Agency, interviewed architect and structural engineer Martin Pribila, the creator of the 'Krtkodom' concept – an alternative housing solution using less land mass and energy and creating a healthy biophilic environment for its inhabitants. Remarkable in its simplicity, the 'Krtkodom' is a thriving business that makes a serious case for a greener life.
How would you describe the 'Krtkodom'? Why is this concept new?
The 'Krtkodom' (the 'mole house' in Slovak) is an eco-friendly, earth-covered house located on a slope, with roofs laid with soil and grass. Its overall focus is on providing comfortable living space while reducing the human impact on nature.
Unlike conventional buildings, the 'Krtkodom' enables the effective use of sloping land for construction. The system is also more cost-effective compared to other types of houses built on a slope. By integrating retaining walls into its structure, the 'Krtkodom' manages to cut down construction costs.
The concept also allows for energy self-sufficiency through solar panels and natural heating and cooling systems, which reduce wasteful energy consumption. The green roof insulates the building, cleans the surrounding air, absorbs rainfall, and can conserve up to 70,000 litres of water. The house is protected and surrounded by nature, which helps reduce noise and pollution.
Free from commonly used building materials such as asphalt and plastics, the 'Krtkodom' relies on recycled concrete, minimising the damage caused by one of the planet's most polluting industries.
How was this idea born?
The concept was inspired by a book called 'Earth Sheltered Housing Design: Guidelines, Examples and References',  published by the University of Minnesota in 1979. My college roommate introduced me to it and once I read the first pages, I was immediately drawn into the fascinating universe of underground housing. Since their earliest days, humans have occupied caves, dungeons, or houses carved in the tuff, taking advantage of a naturally insulated space from torrid summers and harsh winters – the book revealed. It was then that I fully grasped the many ways in which nature can inspire and support sustainable design solutions for the future.
I built the first 'Krtkodom' for myself. It was an intense learning process, which allowed me to develop the concept at my own pace, without the inhibiting scrutiny and pressure of clients. In a way, the experience was similar to offering sample products to close family and friends for testing and feedback.
Despite recent innovations and advancements in green building technologies and practices, sustainable architecture is still the exception rather than the norm. I wanted to do something different that would add value to our clients and provide us with a real competitive advantage on the market. In Slovakia, for instance, only a handful of architects focus on green, underground housing.
Who is the 'Krtkodom' built for?
Our clients usually include individuals and families looking for living spaces that allow them to co-exist with nature, become energetically self-sufficient, and reduce the human impact on the environment. Sustainability is part of all aspects of the planning and construction process of the 'Krtkodom', from the replacement of conventional materials with recycled alternatives to the incorporation of green roofs, the use of water conservation systems, and the integration of the building into the natural landscape. Potential clients find us through our website, dedicated publications, visiting tours, and our social media channels on Facebook, YouTube and Pinterest. For example, our vlogs have an important role in educating the public about the 'Krtkodom' concept and lifestyle. I also help customers find suitable plots of land for their dream house.
How has the Slovak Business Agency and Enterprise Europe Network helped you bring this product to life?
The Slovak Business Agency and the Enterprise Europe Network have played a fundamental role in building a strong international network and growing this business. With the Network's help, we were able to get in contact and work together with an architecture company in Hungary, thanks to which we took the product to a new level. We were grateful to meet an architect who had a strong interest in our concept and shared new ideas on how we can further improve the house.
COVID-19 has had a crippling effect on the construction sector worldwide, with many projects being delayed or halted. Despite these challenges, our business is thriving; since November 2021, we have successfully increased our sales and strengthened cooperation with international partners. The demand for green roofs and sustainable housing has increased, with a growing number of actors such as schools or museums expressing their interest in our expertise.
At present, the Network is helping us identify universities that can help us conduct research on a variety of complex aspects of the building, such as specific measurements or the use of different construction materials. It also regularly informs us about relevant matchmaking events and foreign companies interested in our profile. I recently attended such events in Prague, Lille and Vienna, and was able to expand our network of partners. For instance, this is how I met a supplier from Serbia, which provides us with atypical windows for the 'Krtkodom'. In brief, the Network allowed us to connect and work with others to produce better products.
What is your advice for aspiring entrepreneurs?
Based on my experience, 'new' ideas in this field are often ideas that have been rediscovered and reinterpreted across different times and contexts. This is why a good architect should have an in-depth understanding of history, art and innovation, while staying in tune with current social affairs and cultural trends. Needless to say, many of these ideas will not work or will need tailoring. Keeping an open mind and adopting a flexible approach are vital ingredients for success.
Teamwork and collaboration are also important in the design and construction industries. Working collaboratively with the entire project team, as well as with business partners such as the Network, helped us generate fresh ideas that challenged our initial thinking and created better results. My recommendation for ambitious entrepreneurs is to reach out to the Enterprise Europe Network's local contact point and learn more about the growth and innovation opportunities for their business.
About the author(s)
Katarína Jelenáková is Manager for International Cooperation and Support of SMEs at the Slovak Business Agency. She holds a Bachelor's Degree in Mass Communication and Advertising and has extensive experience in B2B communication, events management, and business advisory services.
The article was co-authored by Ruxandra-Laura Bosilca, PhD, Social Media and Community Manager for Enterprise Europe Network.
Related articles for sustainable construction
Green is the new black. There are no doubts about it. We've all heard the slogans and buzzwords, but we might still be wondering, what does this really mean? How can companies get on board and go green, especially those working in specific sectors, like the building one, with their own distinct challenges? How do the latest sustainable solutions help deliver economic growth? What kind of help does the Enterprise Europe Network offer?
Related articles for innovation
Intellectual property is a powerful tool that can help small and medium-sized enterprises (SMEs) thrive in a fierce business world. Small businesses drive innovation, job creation, and economic growth. Yet, many of these ventures face a common hurdle: the lack of resources and know-how to protect their valuable intangible assets. Join us for a conversation with Christina Deyl, Internationalisation adviser for Enterprise Europe Network Hessen, as she shares her insights on how to make the most of your intellectual property.
How does Enterprise Europe Network support innovative small and medium-sized enterprises (SMEs) in the tech sector? Our Network business advisers and three companies benefiting from their expert advice look back on their successful collaboration.
How can small and medium-sized enterprises (SMEs) create and nurture a culture of innovation? Discover below seven steps companies should take to develop an innovative mindset and environment that supports growth.
Related articles for sustainability
Embedding sustainability into your daily business operations is not only beneficial for the environment, but can also improve your brand reputation, reduce costs, and attract socially conscious customers. In this article, we're sharing 5 strategies that will help your business become more sustainable.
As clean beauty is reshaping the cosmetics landscape, Four Starlings – a family-owned soap-making business in Poland – emerged as a rising star in the industry. We talked to Grzegorz Sienkiewicz, Managing Director of Four Starlings, and Anna Wrzesińska, Chief Specialist for International Cooperation at Podlaska Regional Development Foundation and Business Adviser at the Polish branch of Enterprise Europe Network, to find out how the Network helped the company grow into an international success.  
In 2018, a group of Greek farmers created Proud Farm Group of Farmers to drive sustainable sheep and goat farming forward using new technologies. The Network's business advisers at ANKO Western Macedonia – Organisation for Local Development helped the company reach its ambitious goals.