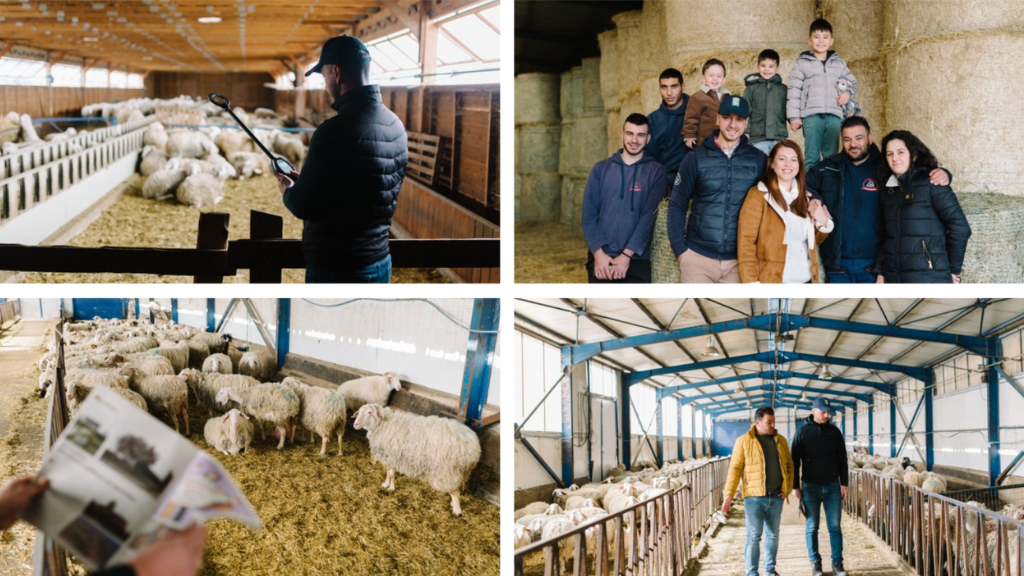 In 2018, a group of Greek farmers created Proud Farm Group of Farmers to drive sustainable sheep and goat farming forward using new technologies. The Network's business advisers at ANKO Western Macedonia – Organisation for Local Development helped the company reach its ambitious goals.
The livestock sector: moving towards sustainability and social responsibility
Animal farming produces approximately 14.5 percent of human-induced greenhouse gas emissions, and the increasing demand for livestock goods is expected to grow. As sustainability becomes a strategic and operational imperative, Proud Farm is developing an integrated farm management model that guarantees ecological sustainability and animal welfare, while optimising producer benefits. Created by a small group of farmers, the organisation collects and distributes sheep and goat milk from local sources.
Proud Farm has ambitions that reach far beyond business. They established the Mediterranean Agrofood Competence Center, the Internet of Food Alliance Innovation Cluster, and a non-profit energy community to encourage innovation and sustainable local growth in the agrofood sector. The company also launched a dairy goat and sheep incubator to remove the entry barriers for young farmers, and joined forces with the City of Athens Solidarity Centre to start "Proud Life", an initiative that provides employment opportunities to people from homeless centres.
Thanks to the aid of ANKO, part of the Greek branch of Enterprise Europe Network, Proud Farm was able to reach its goals. The Network's business advisers enabled them to access funding, seize fresh prospects, and form new partnerships.
The first steps together
In 2020, Nikos Koltsidas, the co-founder of Proud Farm, approached the Network advisers at ANKO in search of new sources of funding. He was interested in the SME Instrument (which has now become the EIC Accelerator), an EU programme that provides comprehensive business innovation support for small and medium-sized enterprises (SMEs) and start-ups.
"The company had extensive expertise in the sector, and was also familiar with the technologies used", explained Liana Papaterpou, Coordinator of the Enterprise Europe Network at ANKO. Even so, obtaining European funding was not simple. "The European Union provides considerable support, but resources are not streamlined into an easy-to-use framework for farmers", Koltsidas commented. To help the company overcome these obstacles, the Network offered assistance with creating new infrastructure, setting up farmer incubators, product standardisation and marketing, conducting pilot projects for research, and networking.
"From the beginning, Proud Farm's founders built transparent processes, clear roles, and common goals", said Papaterpou. "Information was shared openly between the Network and the company, ensuring smooth collaboration. Most crucially, mutual trust helped teams work together seamlessly", she added.
A reliable business partner
Throughout their cooperation, the Network provided Proud Farm with key updates about events, funding sources, and partnership opportunities. For instance, ANKO invited the company to join the 2020 Futures Literacy Lab on "The City of Kozani in 2040" as part of a project funded by EIT Climate-KIC. This enabled the company to share its ideas on smart farming that help mitigate climate change.
"Western Macedonia has been at the heart of the Greek energy sector. However, with the closure of most lignite-powered plants following a government decision in 2019, the challenge was to prevent social and economic decline while drawing in new investment into renewable energies", mentioned Papaterpou. "Proud Farm is ready to take action and secure new sources of financing for this transformation process".
With The Network's assistance, they acquired a European Certificate of Registration via the Ideas Powered for business SME Fund, a grant scheme designed to give European SMEs legal protection over intellectual property rights. Koltsidas commented on this achievement: "The European registration of a trademark gives business professionals the confidence to build a strong brand". Moreover, the company became the first in Western Macedonia to be listed on "Elevate Greece", a digital platform launched by the Greek government to promote rising start-ups.
Fast forward to July 2021, Proud Farmers sought the assistance of ANKO for finding business partners to manufacture new products and expand their market presence. Thanks to the Network, the company and DTS Group – Kastoria, the largest ecological dying plant in the region, were able to collaborate. Currently, they are hard at work on a medical sheepskin pelt that will improve the quality of life of bedridden or recovering patients. 
Proud Farm also launched the world's first "Breeders' Incubator", aiming to break down funding barriers for young entrepreneurs in the industry. The initiative equips aspiring farmers with the necessary resources to get their business running through its three-year support period. Moreover, Proud Farm has collaborated with the University of Western Macedonia to create a smart, full-food production unit and with the Aristotle University of Thessaloniki to design a system for early diagnosis of sheep and goat diseases.
Going forward, Proud Farm plans to produce and distribute sheep and goat milk, and set up a veterinary network for dairy sheep and goat farmers in Greece. Recently, they also completed registering a trademark for a new bio-fertiliser produced from sheep wool, which can be used in floriculture, horticulture, and tree crops. The team is currently building a specialised production facility in Kozani with an expected investment of €500,000. The estimated completion date for this project is late 2023.
"The Network is an invaluable resource for SMEs when it comes to EU policies", said Papaterpou. "Not only does it provide a wealth of information, but it also helps start-ups turn their ideas into commercial successes. We understand the unique needs and objectives of each client, and assist entrepreneurs in forming synergies and creating new products and services".
About the author(s)
Liana Tsatalmpasidou-Papaterpou, Dipl. Economics, is the Head of Entrepreneurship – Innovation Department & Enterprise Europe Network Manager, ANKO Western Macedonia S.A., Greece.
The article was co-authored by Ruxandra-Laura Bosilca, PhD, Social Media and Community Manager for Enterprise Europe Network.