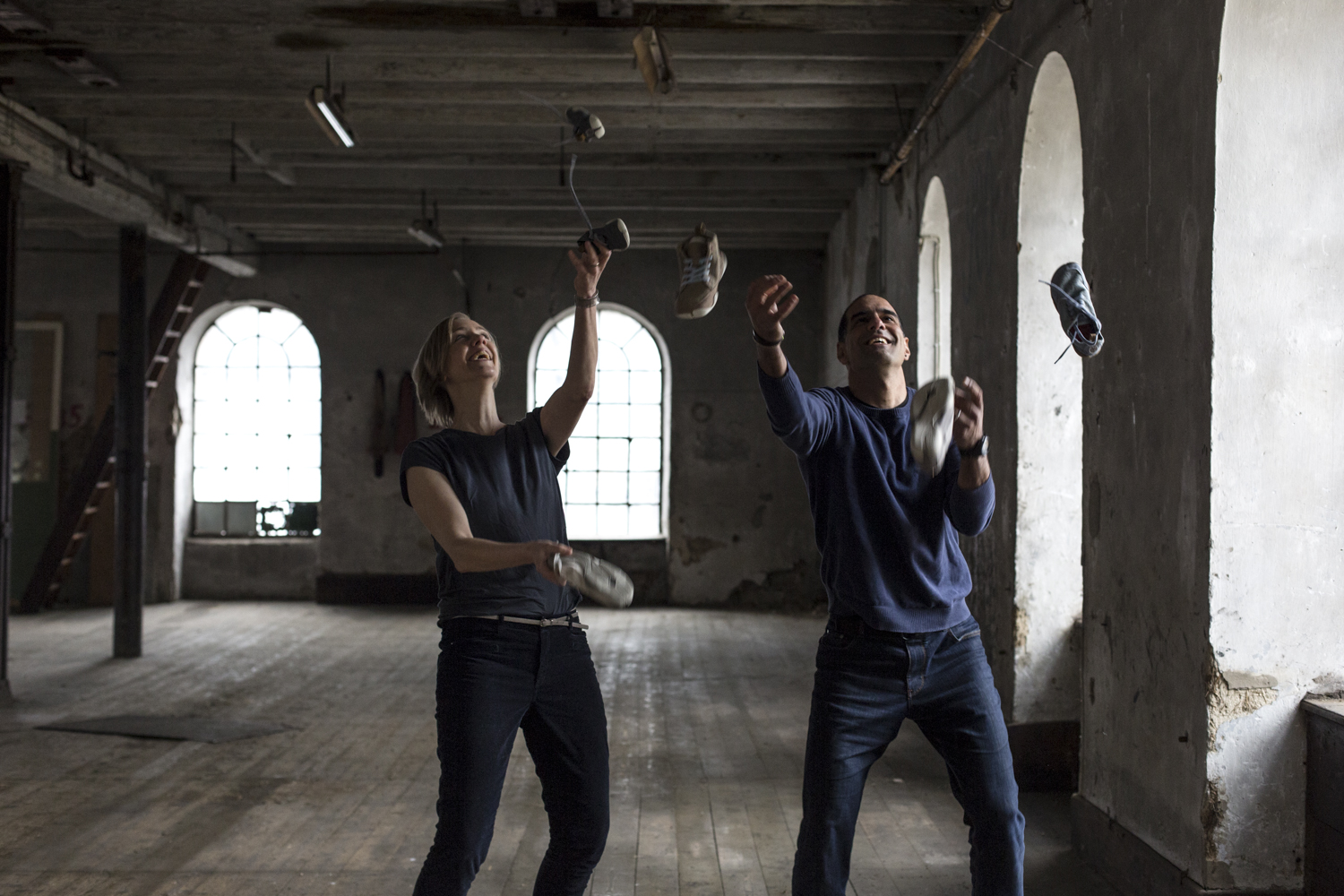 Sometimes the most natural of things can give birth to an outstanding idea. Discover the latest edition of the Network's Blog! German Network Adviser, Andrea Dohle from ZENIT GmbH interviewed Anna Yona, founder of Wildling Shoes, to ask her what sustainability means to her and how successful a sustainability-focused business strategy can be.
After completing her degree at Tel Aviv University, Anna Yona settled in Israel with her husband, Ran. Their three children grew up barefoot there before the family moved to Germany in 2013. The main challenge was to find suitable shoes for kids who were used to running around barefoot. This is how the idea of Wildling Shoes was born. Founded in 2015, the company makes minimal shoes, fairly produced and made from sustainable materials that allow experiencing walking in a truly natural way. All of this while ensuring fair working conditions and environmental standards. 
Andrea Dohle: Anna, we have known each other since your company participated in our NRW.Europa internationalisation competition back in 2018. Could you tell us briefly in what consisted the Network's support?
Anna Yona: Our start-up Wildling Shoes was accompanied on its road to success by the Network partners NRW.Europa-Experts at ZENIT GmbH and NRW.BANK. We received support in the areas of internationalisation and finance, such as financial advice, provision of market information, exchange about internationalisation strategies, and help with entering a new market or partner search. We started out with the idea of designing healthier shoes for our own children. In the meantime, however, Wildling Shoes has become a brand for the whole family, from the first steps in size 18 to size 48.
Sustainability – the ultimate motivator
Andrea Dohle: Anna, when we first met, I was particularly impressed by how profoundly your company was shaped by your sustainable mindset and the appreciation you have for nature and natural products. This is why I am particularly interested to hear which parts of your company the issue of sustainability impacts.
Anna Yona: Sustainability encompasses ecological, economic, and social dimensions, and despite all that, it is a bit shortsighted. If you take the major challenges of this generation to heart – climate change and social injustice – you will soon realise that preserving the status quo is not enough. We need to act differently. What this means for Wildling Shoes in concrete terms is that we have to take a hard look at every part of the value chain, as well as our messaging, our corporate culture, the tech side and, most importantly, our finances, and make changes one step at a time.
Using the value chain as an example, we are creating strategies for each link in the chain. By 2025, we want to achieve a regenerative value chain by starting with the cultivation of our raw materials using eco-friendly methods and then continuing with more holistic working models and environmental standards at our production partners. Furthermore, we can do so by extending the offers for repairs to prolong the product life, recycling and composting the shoe components (humus for our cultivation systems). This closes the loop and brings us full circle.
Of course, a negative impact still arises in production (due to transport and storage, for instance). This impact needs to be reduced to the greatest extent possible and the rest has to be offset.However, because there are added benefits along the value chain the net result will be positive. Some examples of these benefits are: future opportunities for rural areas, better soil quality and CO2 sequestration, more meaningful and healthier jobs in production, increased alternative energy sources and a better customer experience.
The EU Green Deal and the EU's sustainability goals
Andrea Dohle: With the Green Deal, the European Commission has committed to making Europe a climate-neutral continent by 2050. This places a demand on the business community to shift to sustainable products and the circular economy. Do you believe that Wildling Shoes' sustainability-focused business strategy is having a positive impact on your competitiveness, and what advice can you give to other companies that are still in the early stages of this journey?
Anna Yona: I am convinced that our corporate strategy and Wildling's purpose will have a very positive effect, even simply in terms of our customer relationships. The generation that is coming of age now in particular (but their parents as well) is not as prone anymore to being blinded by green corporate promises that are not backed by genuine commitment. Going forward, a corporate responsibility that is truly embraced and practiced will largely define buying behaviour and customer loyalty on the market.
So far, Wildling has acted responsibly at its own expense. Implementing a truly sustainable and fair value chain, taking responsibility for the team, forging honest relationships with customers and partners – it all involves many internal resources. Yet we still believe it is worth it – if only because it feels right. If doing so also generates tax advantages in the future, that will help us step up our efforts even further.
Sustainability certificates
Andrea Dohle: Currently, there is a multitude of seals and certification offerings on the market, especially in the textile sector, like the Oeko-Tex seal, for example. As a company, you have taken an active approach to the issue of sustainability certification. What prompted you to do that, how might certification in this area be useful for small and medium-sized companies, and which aspects do you think are important to keep in mind?
Anna Yona: The maze of certification systems is difficult to navigate, both for companies and for customers. Many quality seals focus on one aspect and leave others out, some certificates are unaffordable for smaller companies, and still, others truly help businesses address complex issues in a holistic way.
In the beginning, we generally handled it very intuitively. We chose Europe as our production location because of the regulatory conditions and the short distances involved; we selected partners based on sympathy, transparency, and the way they treat their employees; and we frequently opted to forego certification when dealing with small but very value-based companies. That approach still makes sense today. For us, personal contact with suppliers and direct insight into the working conditions and environmental standards is far more important than a stamp on a piece of paper.
 For some time now at Wildling, we have been working internally on B-Corp certification. The assessment, which is available online, provides a good framework and a clear roadmap for a very comprehensive sustainable business strategy that focuses on all stakeholders. There was no way we could have committed the resources that went into completing the assessment at an earlier stage, but the time has come for us to demonstrate our commitment externally through rigorous certification.
Covid-19 challenges and future perspectives
Andrea Dohle: During the pandemic Wildling Shoes also had to manage a number of challenges and adapt its activities. How did you overcome these difficulties and what keeps you optimistic about the future?
Anna Yona: In many ways, we did have it easier than other companies in this pandemic – our core sales are generated online and our team already had a lot of experience working together remotely. This gave us a certain degree of stability.
That said, we have had (and continue to have) some challenges to face with. Even though our supply chain is largely intra-European, there have been recurring problems with deliveries and production due to lockdowns and quarantines. The greatest task, however, was to continually rally the team throughout such a prolonged period of individual stress. Because of our flexible approach to work, Wildling is a popular employer, especially among parents. Due to closures at day cares and schools, parents struggled for weeks trying to manage working from home, home schooling, and childcare all at the same time. We realised after the second wave that things could not go on as they were, and that Wildling would have to take a step back if we wanted to get our team through this crisis in one piece. We offered to reduce everyone's working hours to 75% with no change in salary so that they could keep up with the additional family responsibilities.
Beyond that, we have tried to foster more resilience through virtual sports activities, paid childcare, and increased virtual social sharing within the team.
We are not out of the woods yet, but as a young company, we are well on our way to having mastered our first major crisis. This, in conjunction with the ambitious goals we have committed to in the area of sustainability, leaves me feeling optimistic and enthusiastic about what is yet to come.
About the author(s)
Andrea Dohle has been working for the Network since 2009 at ZENIT GmbH in Mülheim an der Ruhr for the region of North Rhine-Westphalia. She started her journey in the internationalisation and advisory support sector and further took over the lead for marketing and communication. Quality and sustainability are of great concern to her. In November 2018 she became the national communication correspondent for the Enterprise Europe Network Deutschland.
The article was co-authored by Matthia Simone Sorrentino, Communication Adviser at the European Commission for the Enterprise Europe Network.