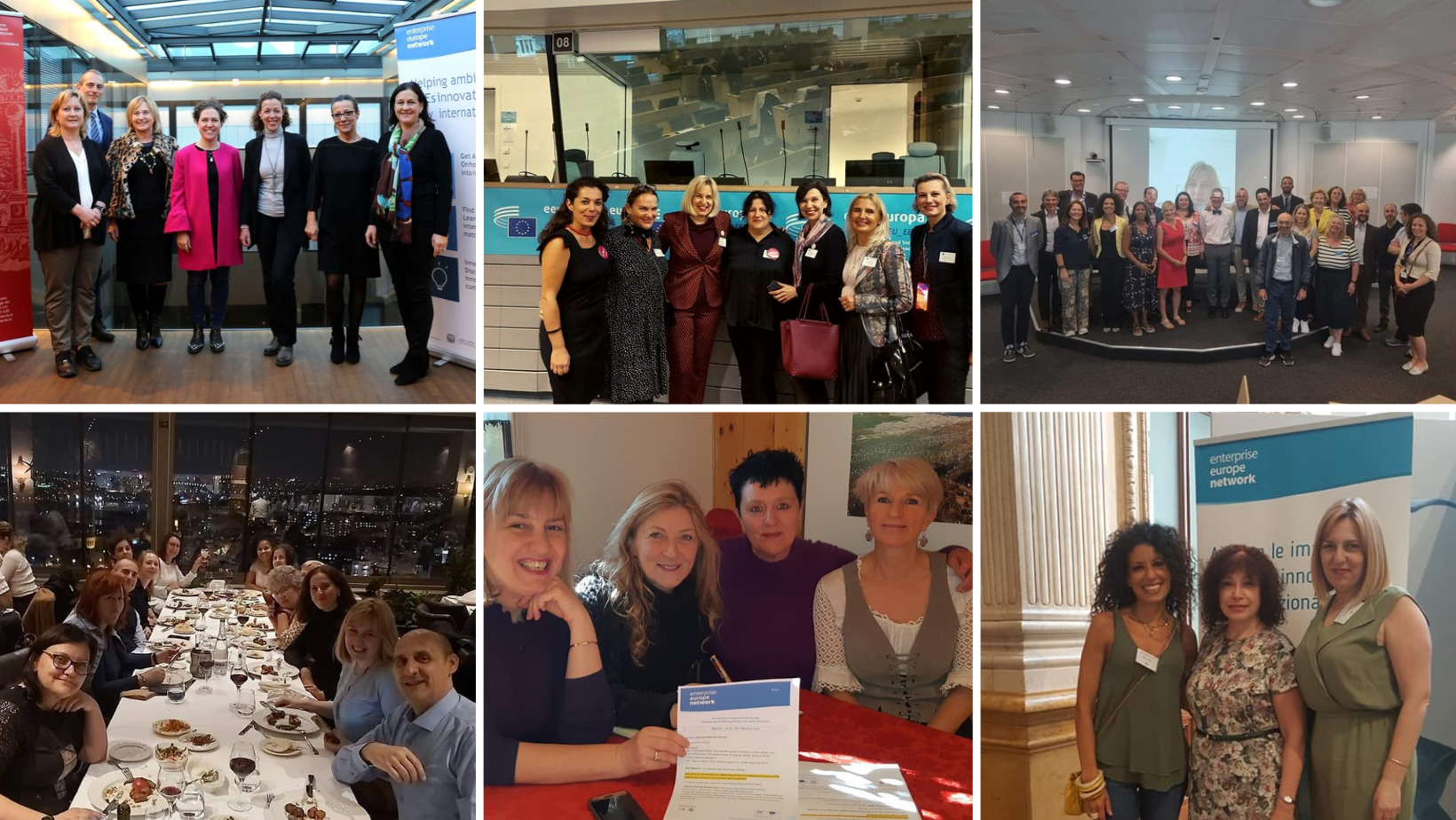 Over the past decades, the number of women who run small and medium-sized enterprises (SMEs) has increased. Still, female entrepreneurs face multiple and intersectional challenges, from access to funding to gender biases. Enterprise Europe Network is on a mission to bolster women's voices across all industries and equip them with the right tools to succeed.
The challenges and opportunities of women entrepreneurship
Women entrepreneurs have a profound impact on their markets, industries, and local communities through job creation, innovation, and economic growth. In Europe, women make up a third of early-stage entrepreneurs with 20 or more employees within five years, according to the 2021/22 Women's Entrepreneurship Report by the Global Entrepreneurship Monitor. Moreover, two-fifths of entrepreneurs creating innovative products or services for the local and national markets are women, with one in three providing new ideas for international markets.
Yet women entrepreneurs still have to navigate challenges related to financing, owning, and growing a business. Financial barriers limit women's access to the capital and business acumen they need to thrive. Other important barriers stem from cultural norms, biases, and structural inequalities that have traditionally discouraged women from running a business. Finally, individual barriers – such as a high aversion to failure or a lack of mentors and business networks – may erode women's confidence when it comes to business. As a result, women own only one in three businesses globally. The pandemic has further exacerbated gender and economic disparities. For example, an analysis published by the European Investment Bank shows that female-led firms were disproportionally impacted by the economic effects of COVID-19 and were more likely to experience declines in sales or liquidity.
Addressing these interrelated challenges is essential as stakeholders become increasingly aware of the benefits of diversity for the economy. Data shows that women-led companies outperform those with male-only boards, spearhead more meaningful corporate social responsibility initiatives, and unlock new opportunities for women. In Europe, various initiatives support women's economic empowerment and entrepreneurship. WEgate, for example, is an online platform that provides women with access to training, mentoring, and business networking opportunities. The European Commission also runs several projects to set up a European community of women business angels and help women entrepreneurs bring their ideas to fruition. Moreover, a series of European networks were set up to promote female entrepreneurship ambassadors and mentors of women entrepreneurs. Against this backdrop, the Enterprise Europe Network's group of experts on women entrepreneurship emerged as a powerful driver of women business entrepreneurship in the European industrial ecosystem.
Stronger together: the Network's Women Entrepreneurship group
The Network first created the Women Entrepreneurship group (WEG) in 2013 to help women business owners unlock learning, networking, and mentorship opportunities. Bringing together over 100 members from business support organisations, the group helps women entrepreneurs find new clients and partners, access innovation services, learn about EU business support programmes, and apply for grants. It connects Network clients with key national stakeholders while also fostering cooperation between women entrepreneurs across different countries. The group's work spans a multitude of sectors, from information technology to textile and fashion, retail, agrofood, and creative industries.
WEG also plays an active role in identifying and broadening the Network's expertise in women entrepreneurship and fostering cooperation with relevant services and programmes in the European Commission. So far, the group has organised a wide range of business networking events, including the Voogle Conference and B2B meetings, the Co-Matching Business Matchmaking Event in Kocaeli, and the Torino Fashion Week in Italy. Since 2020, the group has published an e-catalogue that features pitches by successful women business leaders in Europe to attract new clients, promote cooperation between these companies, and inspire women to embrace entrepreneurship.
In 2022, the group was revamped and gained a broader scope. As part of this process, the group of experts is now focusing on two crucial topics for women entrepreneurship: communication and access to finance. The first strand of action aims to foster closer dialogue between women business leaders while disseminating the WEG's activities among the growing community of female entrepreneurs. The second line of work focuses on providing updated information about EU funding opportunities for women entrepreneurs.
Breaking down barriers to women entrepreneurship one pitching event at a time
To help women entrepreneurs in the Network hone their pitching skills and raise funds for their business, the group organised a pilot pitching event in November 2022. The initiative focused on the digital and green transition and targeted female CEOs, (co)-founders and women in leadership roles at start-ups and scale-ups. Entrepreneurs aiming to transform and scale their services through digital and/or green technologies were also eligible.
Applicants were invited to submit a two-page summary outlining their business model, goals, and solutions as well as their future investment plans. "We received 17 pitches and selected 10 from that pool", said Dr. Popovic-Pantic who leads the Network's group of experts on women entrepreneurship."We invited four additional companies to pitch to give even more entrepreneurs access to the Network's expertise. The event revealed a growing demand for this type of hands-on learning experience", she added. In pitching rooms, women find it harder to secure funding as investors are often more risk-averse when it comes to investing in female-led businesses – mainly due to gender biases and lack of data on the success of women entrepreneurs. As a result, women face higher scrutiny and pushback and often need to do more to prove the worthiness of their business ideas, especially in traditionally male-dominated industries.
Entrepreneurs had the opportunity to get feedback on their pitches from leading experts in finance support, such as the Network coordinators of the group of experts on  'Access to Finance' and 'Scale-up and Start-ups' as well as from female business angels. Participants learned to tailor their investment requests based on their business needs and build a strong pitch-deck. "Our clients were thrilled with the feedback they got from both business angels and experts. We received much praise and encouragement", emphasised Dr. Popovic-Pantic.
One of the participants, Andrea Mladin at Pet Travel Advisor in Serbia, shared her thoughts on the event: "I'm thankful for this experience. I have gained a lot from it and improved my pitch, so much so that now I'm off to the United States to present my venture". Another entrepreneur who benefited from the event is Katerina Gkani from Energy Cooperative WEnCoop in Greece. "WEnCoop was thrilled to be part of this event. Women entrepreneurs are making a difference in the digital and green transition sectors", she said. "The juries gave us tailored advice, helping us refine our storytelling and pitching skills". Elham Hassanzadeh at Arxax, Italy, echoed these views: "The event offered insights into how investors examine a business proposal. We were able to hone our pitch delivery and got excellent feedback". Diana Andritchi at Synaptiq in Romania concluded: "The event helped us boost our visibility and better understand the Network's business support services for SMEs and start-ups. I got to practice my pitching skills, and gained confidence in communicating with investors".
About the author(s)
Sanja Popovic-Pantic, Ph.D, is a senior research associate specialised in the innovation management of SMEs and women's entrepreneurship. Since 2022, she is the chair of the women entrepreneurship group of experts in Enterprise Europe Network.
The article was co-authored by Ruxandra-Laura Bosilca, PhD, Social Media and Community Manager for Enterprise Europe Network.