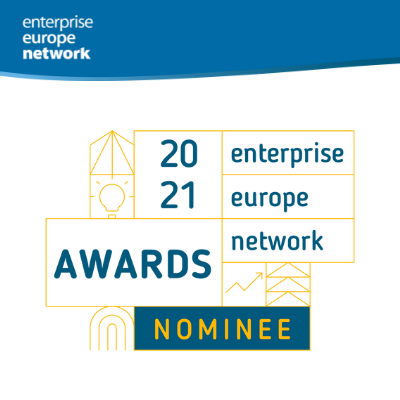 What do mushroom-based burger and hemp fibre manufacturers or a garment recycling company have in common? These are some of the most innovative small and medium-sized enterprises in the European Union, who are finalists of the Enterprise Europe Network Award 2021, announced by the European Commission and the European Innovation Council and SMEs Executive Agency (EISMEA). The winners will be acknowledged in three categories at an award ceremony in Stuttgart on 1 October during the Network's Annual Conference.
The Award recognises and honours creative entrepreneurs, some with digital and sustainable ambitions, making the most of the opportunities in the single market, through services and support of the Enterprise Europe Network.
The finalists are start-ups and small and medium-sized companies (SMEs) that span a diverse range of industries from the textile and fashion industry to robotics, pharmaceuticals, the agro-food sector, wastewater treatment, to cutting edge medical and laser technology.
The Enterprise Europe Network is the world's largest support network for small and medium-sized enterprises, funded by the EU. It helps businesses innovate and grow on an international scale and boost their resilience in Europe and beyond. Combining international business expertise with local knowledge to help SMEs take their innovation into new markets, the Enterprise Europe Network helps businesses grow faster through tailored support, new commercial partnerships, and access to finance.
This year's nine finalists from seven EU countries include the following:
BeefyGreen, a Dutch company, produces a mushroom-based meat substitute from the stems of the oyster mushrooms.
Greek start-up, Biomimetic offers bio-inspired laser nanotexturing of glass, which has anti-reflective, anti-glare, anti-fogging, and super-hydrophilic properties which can be applied to consumer electronics, such as cell phones, watches or laptops.
Comau is a leading company in the industrial automation field. Based in Italy, the organisation helps leverage the full potential of digital manufacturing. French consulting firm, COBO4YOU has partnered with Comau to focus on the integration of cobotics solutions in the automative industry.
German-based Enviplan is an SME with experience in engineering, design and construction of drinking water processing, treatment, and wastewater purification, which applies micro-flotation technology to industrial and municipal wastewater treatment.
Nuvisan, a French pharmaceutical company provides research & development services for the development and production of topical medicines.
Headquartered in France, RBX Creations specialises in the use of hemp fibre for the manufacture of various materials such as bioplastics, paper, and textile.
Originating from Belgium, Resortecs is a start-up company in the textile and fashion sector, offering global patented solutions that enable garment recycling - thanks to automatic disassembly of apparel at industrial scale.
Spanish SME, Sant Aniol specialises in the production of volcanic origin water from the natural park of La Garrotxa, a region in Girona.
UBT SRL (Umbria Bioengineering Technologies), is a biomedical company that develops and commercialises innovative medical imaging devices, based on cutting-edge microwave technology instead of dangerous ionizing radiation (X-Rays).
Three of these entrants will be honoured with the top accolades in the following categories:
'Inspiring Client Journey': Best example of positive results for SMEs who have successfully benefitted from the Network's services to reach the SME's desired destination. A good example of the Enterprise Europe Network as a "good compass or Global Positioning System receiver (GPS)" in the SME journey towards internationalisation and growth.
'Stepping Ahead': Best example of positive results focusing on the new Network priorities: digitalisation, sustainability and innovation for visionary SMEs who have successfully started the "transition" to benefit from the Network's innovation services and develop a new product, service or technology.
'Recovery': Best example of a remarkable adaptation to change and flexibility to recover.
Check out the videos featuring the projects
Watch the full playlist on the Enterprise Europe Network Youtube channel.