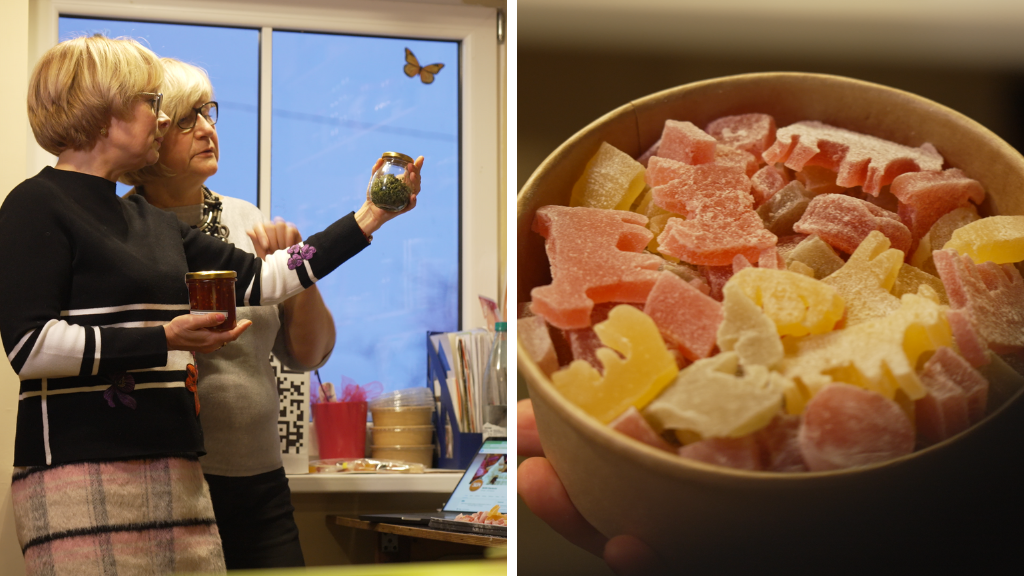 Network partners

Sector group

Agrofood

Countries
Imagine a feast of luscious, juicy, home-made jelly candies with no artificial colourants or preservatives made from goat's milk and fresh fruits, herb syrups, as well as sea salt infused with the flavoursome greens. Come to the home of Olga Blumbaha, the exporter who is also a passionate producer of culinary delights and you won't be disappointed.
In 2018, Olga Blumbaha started to live her life's dream, preparing jellies and other home-made products under the brand SKIM Gardumi, named after her grandson. What started with one type of candy soon grew into a mouth-watering selection of 28 sweets. "I am one hundred percent in favour of a green lifestyle, healthy and natural food, and I try to grow everything on my land at home without chemicals," Blumbaha emphasises.
COVID: A double-edged sword for Olga's business
Olga is a lecturer in economics at the Rural Consultation and Education Center. Home production was her hobby and she gives advice to her students, friends and colleagues when asked on topics like fruit and vegetable growing, cookery and healthy living.
Then in 2020, disaster struck. With the COVID pandemic, all normal sales channels dried up. Olga, manager of SKIM Gardumi, sought help from Diāna Zobena, Enterprise Europe Network Latvia (EEN-Latvia)/Latvian Technological Center (LTC) immediately. She asked for support in innovation management improvement and finding new markets.  "As a result of finding unexpected new clients and distributors, demand is outstripping supply," says Diāna.
A notable customer is a well-known packaging-free store in Tallinn, Estonia. Blumbaha is happy that she manages to sell her product without packaging as it confirms her green way of life and saves precious resources. Also, the variety of sweets has since risen to 42.
In line with the Network's advisory plan skilfully adapted to suit SKIM Gardumi's challenges of building brand awareness and expansion of sales channels, Olga was encouraged to participate in the major Baltic food industry fair Riga Food in 2020.  "It was the first food related international event the company took part in despite COVID and they acquired experience, an unexpected number of new potential clients and distributors, as well as finally becoming recognised locally and internationally," she said.
SKIM participated in the Innovation Booth at Riga Food 2020 and 2021 and, as a result of advice from Enterprise Europe Network, was encouraged to start cooperation with other participants including Bendiku piena aitas Ltd. and Mārlapiņi Ltd. "The result – more innovative products being developed," Diāna points out. "Olga is already planning to participate in the Food Fair in 2023."
A protege forms her own business
Olga's skills do not end with home produce. In 2022, a former student, Sintija Pasate, started her own business 'InkaOGA' under Olga Blumbaha's continued mentorship as well as with business guidance from the Network. As Diāna Zobena tells us: "Upon my advice, Sintija opened social media accounts – FaceBook and Instagram – to promote and raise awareness of the new company. Within 1 hour of opening the FB account, Sintija had her first order! She also registered the company because I asked her to in July 2022".
Sintija had been a saleswoman in a store, but not liking her job, Olga advised her to "grow Physalis!" Cultivating the exotic plump orange fruit in a greenhouse in her garden, she now makes a sumptuous range of delicacies.
From physalis jam and jelly candies, a new recipe for 2022 has emerged.  The exotic fruit is combined with dried tomato, dried garlic, olive oil and basil – a spicy addition that tastes great with cheese. Physalis is not native to Latvia – it is actually a native of Peru, known as the Inca berry – but under Olga's guidance, Sintija knows all there is to know about growing it. She now manages three large greenhouses to cope with production demands.
Ideas with a Christmas flavour and future specialities
Both home producers encourage young farmers to cultivate physalis as there is definitely a market for this exotic fruit. For the festive season, as well as physalis, there will be products with raspberry, rowan rhubarb, ginger, sea buckthorn and chilli flavours.
When asked how Olga gets her ideas, she says there is no single answer. However, one was born of a walk in the woods, she relates. "When my husband sawed down an old fir tree and new shoots appeared, I came up with the idea of fir cone syrup."
As for the future, Olga hopes that one of her students will launch a new product on the market next year, but she won't divulge details just yet. When asked what was the most difficult thing to cope with since she acquired the status of home producer, she laughs and says "Nothing! The work I do is from the heart."
The director of the Latvian Technological Center, Ints Viksna, believes that: "The number of home producers and small businesses is growing and this is much appreciated. Imagine a small producer where the whole family works for a common goal, they provide for themselves and have enough funds for living and bills."
Both Olga and Sintija praise the support of the Enterprise Europe Network, particularly the work of Diāna Zobenas, as it was very important in the early stages of their business.