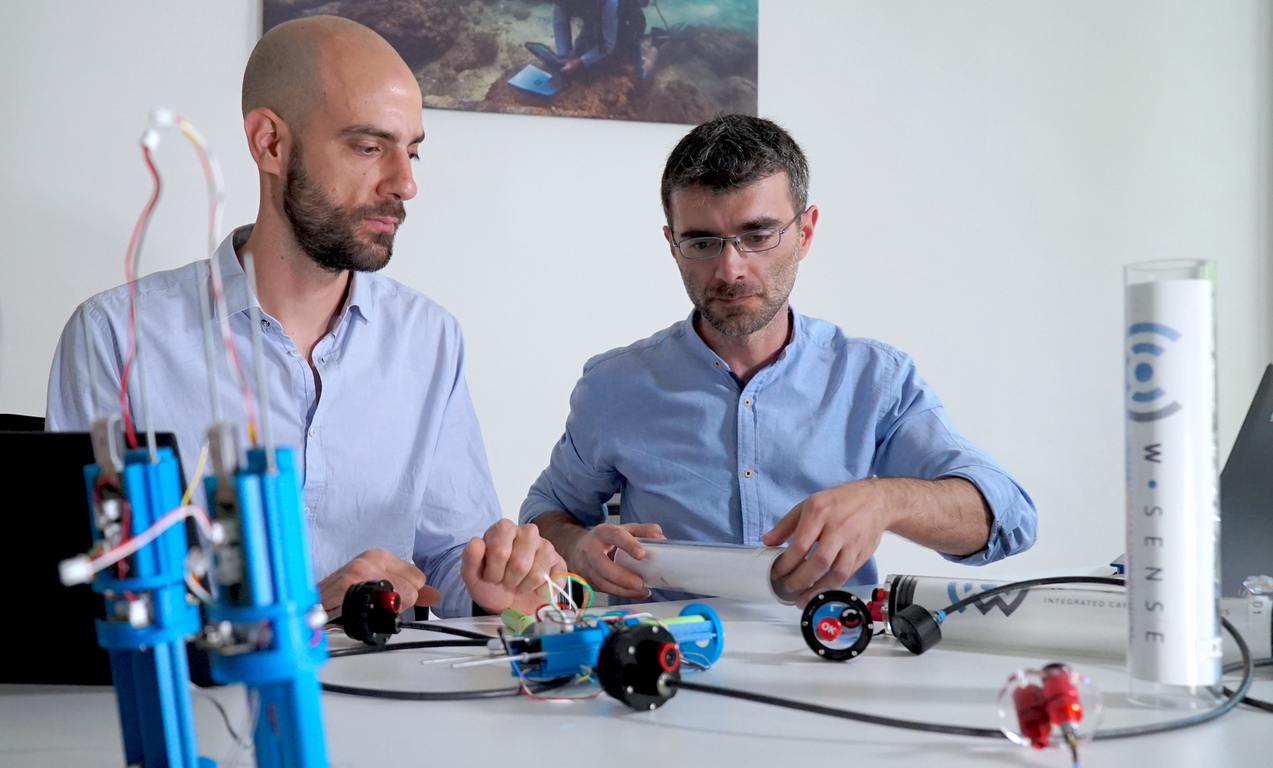 Network partners

Sector group

Maritime Industry and Services

Countries
The internet is everywhere, from the planes in our skies to the trains under our feet – but venture underwater and the situation is very different. Radio waves travel much slower through water and can easily be disrupted, making cableless communication incredibly difficult. However, an Italian technology firm has pioneered the underwater Internet of Things, allowing for secure communication between underwater sensors and vehicles resulting in the better monitoring of marine environments.
W•SENSE, a spin-off of Sapienza University of Rome, launched in 2012 after an intense period of research and development. "Today everything is connected in our terrestrial world, but internet technology doesn't work underwater," said Chiara Petrioli, CEO of W•SENSE and Professor of Information Technology at Sapienza University of Rome. "This is a paradox, considering there is a fast-growing demand to provide data on the marine environment."
In 2017, W•SENSE developed a solution to guarantee underwater cableless networking interoperability. This meant that submarines, divers, unmanned vehicles and underwater sensors could all communicate together. Petrioli hoped that this would facilitate marine research projects in a more secure, reliable and sustainable way.
The challenge of funding innovation
The ingenuity and originality of the idea meant that W•SENSE had no issues in attracting business. Instead, they faced challenges in securing the necessary funding to be able to undertake this work. "After successfully developing a pilot project, we started getting large contracts," said Petrioli. "Due to our fast growth, we were faced with the problem of not being able to advance the hundreds of thousands of euros needed for the implementation of the contracts." Despite its cutting-edge technology, W•SENSE was refused a loan by 5 different banks.
After a previous project allowed the company to be considered for EU scale-up support, W•SENSE contacted Unioncamere Lazio, the local Italian Enterprise Europe Network branch. The Network was able to advise the business on securing the much-needed finance. "They are unique in the world to have this technology," said Marco Lentini, Project Manager at Unioncamere Lazio. "W•SENSE was growing too fast for traditional banking logic."
Lentini and the Network presented W•SENSE and their challenge to accessing finance at a national conference, which sparked a relationship with an Italian commercial bank. "We decided to present the case to a local financial intermediary under an EU financing tool for innovators. They had to overcome some issues related to the company's dimension, but they had a business plan that guaranteed return on investment," said Lentini.
The Network helped W•SENSE through several months of negotiations with the bank, during which they provided support in drafting a robust business plan. As a result, the company received a €500,000 bank loan, guaranteed by the EU. This guarantee also meant that they were able to obtain a lower interest rate.
On top of access to finance support, the Network also helped W•SENSE participate in several events in Italy and the United Kingdom, and provided advice and feedback on their business pitch.
Underwater internet beyond borders
As a result of the new investment, W•SENSE were able to take on bigger contracts and scale up as a business. Their annual turnover has multiplied by 20 – from €300,000 last year to €6 million foreseen next year.
When the company launched in 2012, it was comprised solely of the original partners. The Network's support has enabled them to expand and create job opportunities in Italy and across Europe.
"Our company grew, doubling its size to 23 people located in 3 European countries," said Petrioli.
Currently, the company has offices in Italy, Norway and the United Kingdom. It has multi-annual contracts with key stakeholders in aquaculture, defence, energy, and environment. "We are growing fast, with an expected compound annual growth rate of about 70% in the next 5 years," said Petrioli. "We are constantly supported by the Network."