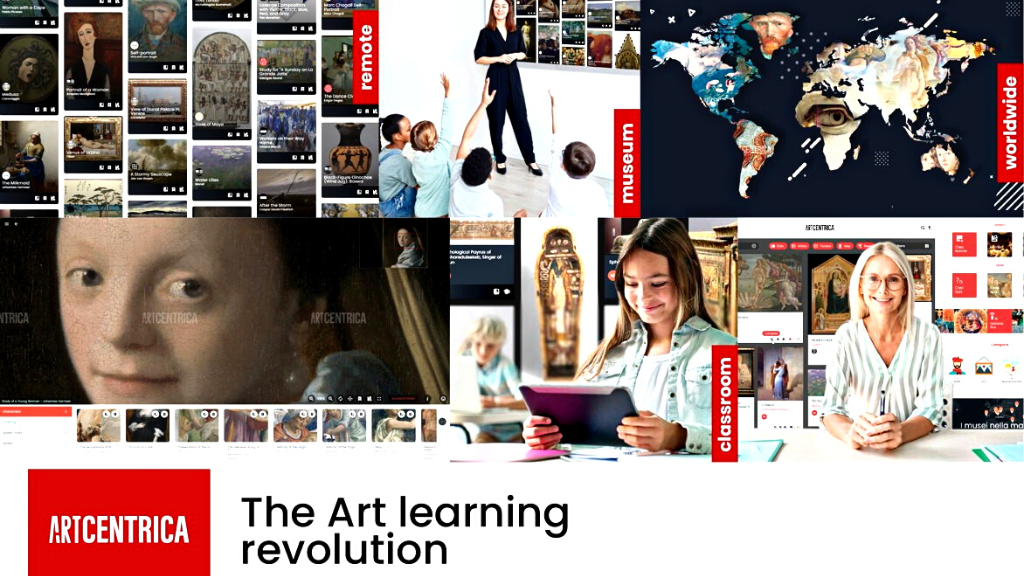 Centrica, an SME with a passion for cutting-edge technologies and artistic heritage, found a transformative path to success with the help of Enterprise Europe Network. Through its subsidiary, ArtCentrica, the company ventured into the EdTech sector, offering innovative tools for art education. Thanks to the support and opportunities provided by the Enterprise Europe Network, Centrica expanded its horizons and achieved international recognition, making significant strides in the digital art world.
A visionary partnership
Eurosportello Confesercenti (EUC), a long-standing Italian partner of the Enterprise Europe Network, established contact with Centrica towards the end of 2021. This connection was made on the occasion of the EIT (European Institute of Innovation and Technology) call for the KIC (Knowledge and Innovation Community) of Cultural and Creative Sectors and Industries (CCSI). The introduction was facilitated by previous interactions at regional events and initiatives.
In 2022, a comprehensive evaluation took place during which Centrica elaborated on their medium and long-term projects. These included the further development of their digital products, integrating AI solutions to enhance their capabilities. Additionally, Centrica aimed to expand its reach into new markets and attract clients from both private sectors and the education industry. Their aspirations also included active participation in EU-funded projects, particularly within the Horizon Europe framework, to foster networking and explore novel research opportunities. To achieve these ambitious goals, Centrica sought to attract private investors.
In November 2022, a formal agreement was reached between EUC and Centrica, providing Centrica with support in accessing funding for their initiatives.
Joining the European elite
Being a part of the KIC-CCSI offered Centrica/ArtCentrica a remarkable opportunity to join a network of influential European players. As part of this prestigious group, the company gained visibility, prestige, and connections with potential investors and European projects. Enterprise Europe Network facilitated Centrica's association with a winning consortium, ensuring their inclusion as an associated partner and opening doors to exciting collaborations and funding opportunities.
The road to success
The impact of Enterprise Europe Network support became evident in Centrica's continuous growth and achievements. They secured two national calls for creative SMEs, expanded their digital exhibition reach to international audiences, and even received equity investment from Fondazione Social Venture. These milestones enabled the hiring of new professionals and further propelled their impact on the EdTech market.
Impacting learners and culture worldwide
In April 2023, ArtCentrica's digital exhibition, "Renaissance Experience," captivated audiences in Beijing, coinciding with a physical exhibition featuring works from the Uffizi Galleries. The success of this exhibition further solidified Centrica's reputation as an expert in digitization and art education. Additionally, the company showcased "Lonely Dog Immersive" in Orlando, Florida, a digital exhibition celebrating the works of contemporary painter Ivan Clarke.
Endorsed by awards and recognitions
Centrica and ArtCentrica's ground-breaking work earned them numerous awards, including the Global EdTech Startup Award, the FuturED program of Cassa Depositi e Prestiti, and the Global Startup Program of the Italian Trade Agency. These recognitions not only boosted their reputation, but also unlocked opportunities for international collaborations and partnerships.
Marco Cappellini, CEO and co-founder of Centrica expressed his appreciation for Enterprise Europe Network's unwavering support: "There is really a continuous support from Eurosportello, professional and passionate about our innovations in art and education through digital technologies. With their support, we can grow faster, better, and provide more impact to our stakeholders: learners, museums, and other cultural and educational entities."
Unlocking growth through strategic collaboration
With the invaluable guidance and assistance of Enterprise Europe Network, Centrica evolved from a local SME into a globally recognised player in the EdTech sector. The results of the call will be published in early October.Their journey of innovation and collaboration with prestigious European institutions has not only enriched their own success but also positively impacted learners, cultural institutions, and educational entities worldwide. Through their transformative vision, Centrica has secured a prominent position in the digital art landscape, and their story continues to inspire aspiring entrepreneurs and educators alike.
Curious to learn more about the digital art world?
Related links