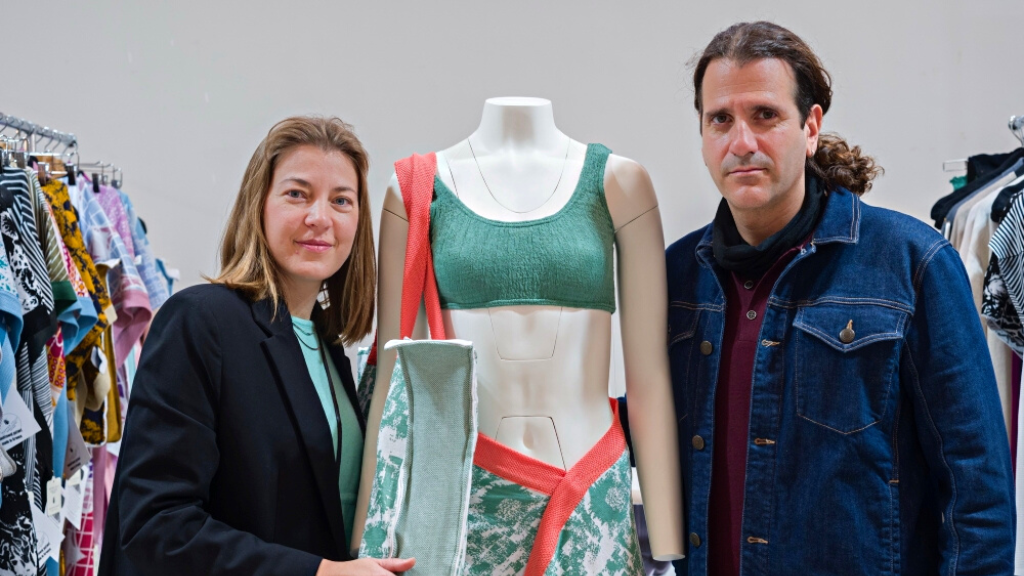 A new generation has successfully transformed an industry steeped in sentimental value. Thanks to the backing of the Enterprise Europe Network, Pepper Vally® has become a trailblazer, producing innovative textile products and high-quality smart clothes.
Combining design and manufacturing excellence 
Pepper Vally® is a Greek textile company founded in 2011 by Aliki Goritsa and Spyros Fragos, two young textile engineers, who have emerged as a game-changer in the industry by combining the roles of designer and manufacturer. Spyros grew up among knitting machines, in the small knitting factory that his parents owned. At University he met Aliki and they have been together ever since. They were united by the vision of a fabric and garment of top quality and with functional value that respects the person who wears it. 
With a focus on innovation, quality, and sustainability, they have transformed the sentimental value of the textile industry into a thriving business. They ensure the quality and origin of the yarns used by the company, which are carefully sourced from leading suppliers. Through vertically integrated production, Pepper Vally® maintains control over the entire manufacturing process to ensure top-notch quality and minimise waste. 
Innovation and functionality take centre stage 
Pepper Vally® places a strong emphasis on design and functionality. The company believes that innovation should primarily serve the intended use of the product. For example, their summer collection features beach towels made from an innovative knitted fabric that is lightweight, quick-drying, and shape adjustable. Aliki explains, 'All of these [features] are possible due to suitable combination of yarns in the pattern and the shape adjustable characteristics of this innovative knitted fabric developed by Pepper Vally®'. 
Venturing into smart fabrics with Enterprise Europe Network's guidance 
With the advisory guidance of the Athens Chamber of Small and Medium Industries (ACSMI), one of the Greek Enterprise Europe Network Partners, Pepper Vally® started working on smart fabrics and technologically advanced clothing. They proudly present prototypes developed through their participation in the WORTH project. These prototypes include wearable garments with sensors that record heart rate and provide physiological assessment. Made from certified Merino Wool, their fabric achieves desired elasticity and requires fewer seams, thanks to advanced knitting technology. 
'In 2018, we recommended Pepper Vally® to apply for the WORTH project,' says Zeta Sfyraki, executive at the ACSMI. 'We had been informed by the group of Network experts working on Creative Industries about this project which supported international collaborations between fashion designers, manufacturers and tech-companies aiming to develop innovative products.' 
'The Enterprise Europe Network understood our needs very well and the work they proposed paved the way for us. It was a great opportunity to connect with new tech start-ups and jointly design a smart textile product,' says Aliki.  
Commitment to sustainability for small and medium-sized enterprises 
Pepper Vally® recognises the importance of sustainability in their business. They focus on creating innovative products based on sustainability principles. They prioritise the use of natural biodegradable or innovative bio-based & recyclable synthetic raw materials, fair pay for those involved in the production process, and the health of the skin. The founders believe that small businesses connected emotionally to their craft are more interested in the quality and value of the product than solely in profit. 
'We immediately realised the potential Pepper Vally® had in the field of innovation and sustainable development. In harmonious collaboration with the company, we diagnosed its needs for extroversion, financing, and creation of synergies for innovative products based on sustainability', says Zeta Sfyraki (ACSMI). 
Ongoing support from the Enterprise Europe Network 
The Athens Chamber of Commerce and Industry, in their capacity of Enterprise Europe Network Partner, remains dedicated to supporting Pepper Vally® throughout its journey.  
'It is very important for us to be in direct contact with companies in order to understand their needs and identify the right cooperation and funding opportunities for them', says Mina Peleki, executive of the Athens Chamber of Small and Medium Industries. 
Thanks to its continuous support, the Network has played a crucial role in the development of the company. Pepper Vally® has successfully secured funding through projects like WORTH and the ELIIT Partnership Project. They have also received assistance by Achilleas Barlas, consultant at PRAXI Network and coordinator of the Enterprise Europe Network Hellas consortium, in assessing their digital innovation capacity through the IMP³ROVE Digital Innovation Quotient. Finally, they participated in training seminars for creative SMEs in Athens- the INNOMED-UP 'Promoting the circular economy in creative SMEs for the revitalisation of Mediterranean cities'- organised by the NTUA. 
Looking towards the future 
Pepper Vally® is now focused on promoting its products in the market. Their summer line showcases innovative clothes, beach towels, bags, and natural swimwear designed to cater to the needs of Greek summer enthusiasts. The company plans to prioritise the distribution of smart clothes, forging B2B synergies to customize their technology and jointly promote related products. With the unwavering support of the Enterprise Europe Network, Pepper Vally® is poised for continued resilience and growth in the textile industry. 
Read more about Pepper Vally's great success!